Original OCR: no clean-up
49,038 ALTO XML files at page level
METS metadata files at item level
4,150,496 lines and 22,933,017 words
---
The series of British books called the Asian Directories and Chronicles was published between 1860 and 1941; the National Library of Scotland collection ranges from 1917-1941. Each volume provides listings of active corporations, foreign residents and government agencies of all nationalities for that year, together with their addresses in countries including Borneo, China, Indo-China, Japan, Korea and The Philippines.
They were compiled annually from many different local sources and research, and were a source of information for both Western states and communities of foreigners living in Asia. They included treaties, coverage of conflicts, changes in extra-territorial jurisdiction and courts of law, and currencies and taxes; the addresses of all corporations and institutions and consulates, as well as the occupations and employers of all the foreign residents together with their addresses. They also provided information about weights and measures, public holidays, festivals and traditions.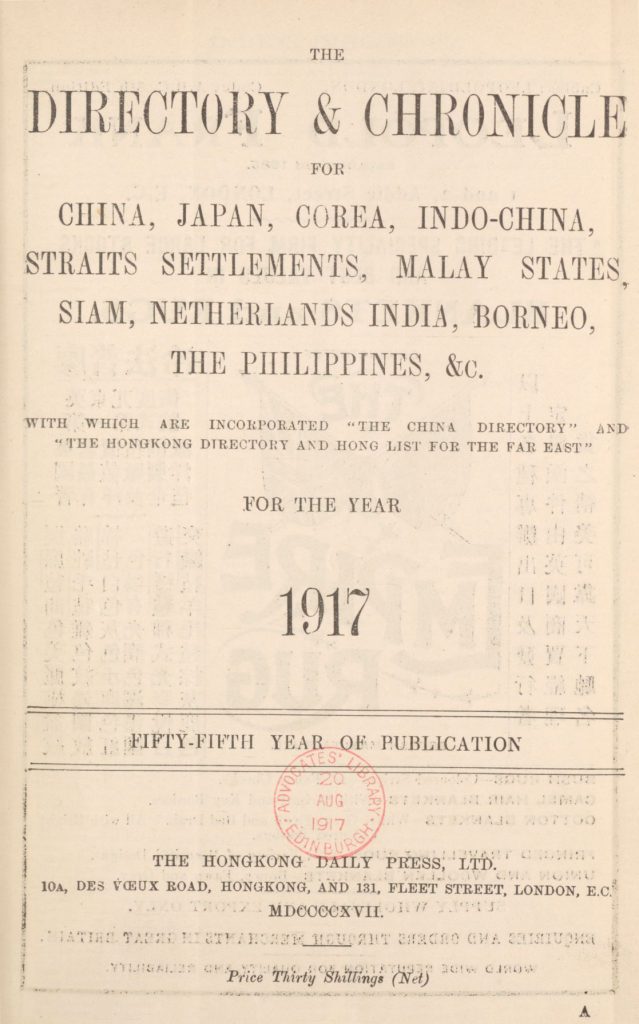 ---
Rights information

Items in this collection are likely to be free of known copyright restrictions. For details visit our copyright page.
---
Download the data
Trial the data
Download a sample of the dataset for initial evaluation.
File contents: 1 plain text readme file; 2,282 ALTO XML files; 1 METS file; 2,282 image files.
File size: 390 MB compressed (526 MB uncompressed)
All the data
File contents: 1 plain text readme file; 1 CSV inventory file; 49,038 ALTO XML files; 23 METS files; 49,038 image files.
File size: 7.7 GB compressed (10.7 GB uncompressed)
Caution: large dataset
Just the text
File contents: 1 plain text readme file; 1 CSV inventory file; 23 plain text files.
File size: 50 MB compressed (145 MB uncompressed)
---
Cite the data
DOI: https://doi.org/10.34812/thgt-1y03
Dataset creator: National Library of Scotland
Dataset publisher: National Library of Scotland
Publication year: 2019
Suggested citation: National Library of Scotland. Asian Directories and Chronicles. National Library of Scotland, 2019. https://doi.org/10.34812/thgt-1y03