Original OCR: no clean-up
47,329 ALTO XML files at page level
METS metadata files at item level
1,432,928 lines and 10,818,763 words
Covers period c1700-c1899
---
This dataset comprises more than 3,000 chapbooks printed in Scotland. They form part of the Lauriston Castle Collection, which was bequeathed to the Library in 1926. It includes some 500 chapbook volumes containing around 5,500 individual items, more than half of which were printed in Scotland.
Chapbooks were staple everyday reading material from the end of the 17th to the later 19th century. They were usually printed on a single sheet and then folded into books of 8, 12, 16 and 24 pages, and they were often illustrated with crude woodcuts. Their subjects range from news courtship, humour, occupations, fairy tales, apparitions, war, politics, crime, executions, historical figures, transvestites and freemasonry to religion and, of course, poetry. It has been estimated that around two thirds of chapbooks contain songs and poems, often under the title garlands.
Chapbooks were produced cheaply: the paper was often of low quality, printing type bought second-hand produced poor results, and woodcuts were re-used time and time again to adorn title pages. Chapbooks were sold by pedlars, so-called chapmen, on streets and at fairs, but people could also buy them directly from printing shops. The chapmen usually bought a large number of chapbooks on credit from printers and then travelled the country for up to six months, selling them for a penny a time along with other wares. Provincial booksellers specialised in cheap print much more than metropolitan ones. Chapmen were supported by flying stationers to make chapbooks, along with broadsides, the most popular reading material for the masses.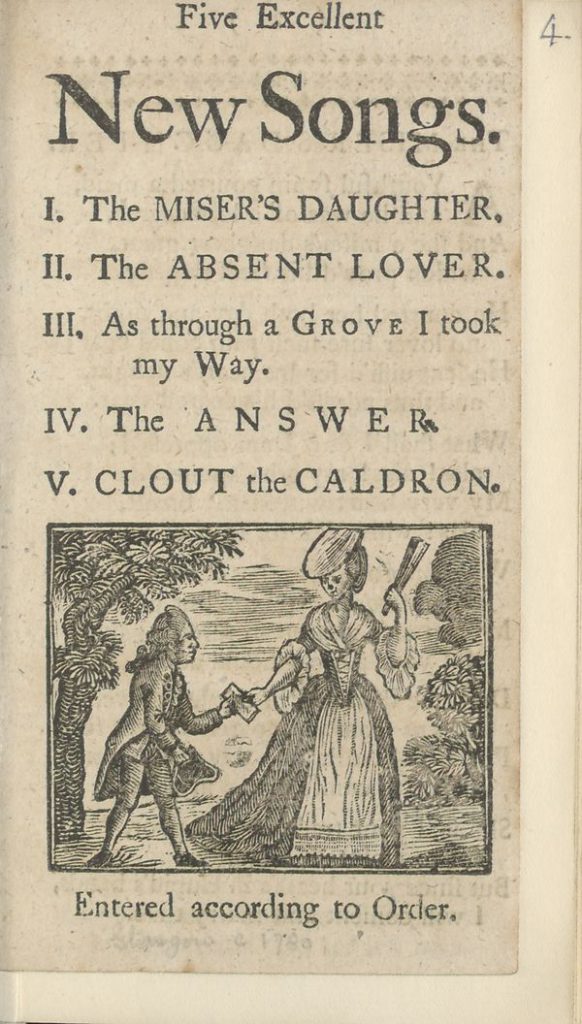 ---
Rights information

This collection is free of known copyright restrictions. For details visit the Library's copyright page.
---
Download the data
Trial the data
Download a sample of the dataset for initial evaluation.
File contents: 1 plain text readme file; 8 ALTO XML files; 1 METS file; 8 image files.
File size: 6.1 MB compressed (7.4 MB uncompressed)
All the data
File contents: 1 plain text readme file; 1 CSV inventory file; 47,329 ALTO XML files; 3,082 METS files; 47,329 image files.
File size: 6.3 GB compressed (7.7 GB uncompressed)
Caution: large dataset
Just the text
File contents: 1 plain text readme file; 1 CSV inventory file; 3,082 plain text files.
File size: 25.5 MB compressed (56.3 MB uncompressed)
---
Cite the data
DOI: https://doi.org/10.34812/vb2s-9g58
Dataset creator: National Library of Scotland
Dataset publisher: National Library of Scotland
Publication year: 2019
Suggested citation: National Library of Scotland. Chapbooks printed in Scotland. National Library of Scotland, 2019. https://doi.org/10.34812/vb2s-9g58