Original OCR: no clean-up
6,354 ALTO XML files at page level
METS metadata files at item level
259,829 lines and 2,654,641 words
Covers years 1865-1874 and 1875-1880
---
This collection consists of the complete runs of two Edinburgh journals, 'The Attempt' (10 volumes, 1865-74) and its successor 'The Ladies' Edinburgh Magazine' (6 volumes, 1875-80). These publications were produced by a leading Edinburgh women's club, known during the period as the Edinburgh Essay Society or the Ladies' Edinburgh Essay Society, but subsequently as the Ladies' Edinburgh Debating Society. The Society existed from 1865 to 1935.
The Society's members included women who were or would go on to be prominent figures in education, suffrage, health and welfare, including its founder Sarah Siddons Mair and anti-slavery campaigner Eliza Wigham. They included several published authors as well as founders and early headmistresses of Edinburgh schools and colleges. The magazines' contents reflect their interests in these areas, containing articles about aspects of society including women's work, women's suffrage and rights, and religion, as well as literary criticism, fiction and poetry. Articles by women writers who were not members, such as Charlotte M. Yonge, also appeared occasionally. Many of the members who contributed to the magazines were also members of the Edinburgh Ladies' Educational Association, later the Edinburgh Association for the Higher Education of Women, and women's access to higher education was debated in these journals, as well as facilitated by articles such as lists of examination questions.
Virginia Woolf wrote of 'a room of one's own' for private writing: these publications show how this group of Edinburgh women created a communal room in which they could speak and write to one another. As magazines which circulated primarily to members but which could also be bought at commercial outlets, they occupied a space at once private and public in a way which mirrored the experiences of the Society's members during these years as they emerged from family drawing rooms into a wider public sphere of action.
These copies of the journals were presented to the Library in 1936 along with the manuscript minutes of the society, MSS.1723-33, and a copy of the Society's history, 'Ladies in Debate' ed. Lettice Milne Rae, (Edinburgh, 1936), Shelfmark R.251.d, when the Society was formally dissolved.
Related links
K.A. Kelman. 'Female 'Self Culture' in Edinburgh: The Ladies' Edinburgh Debating Society'. PhD thesis, Queen Margaret University, 2002. (This contains a list of Society members and other tables).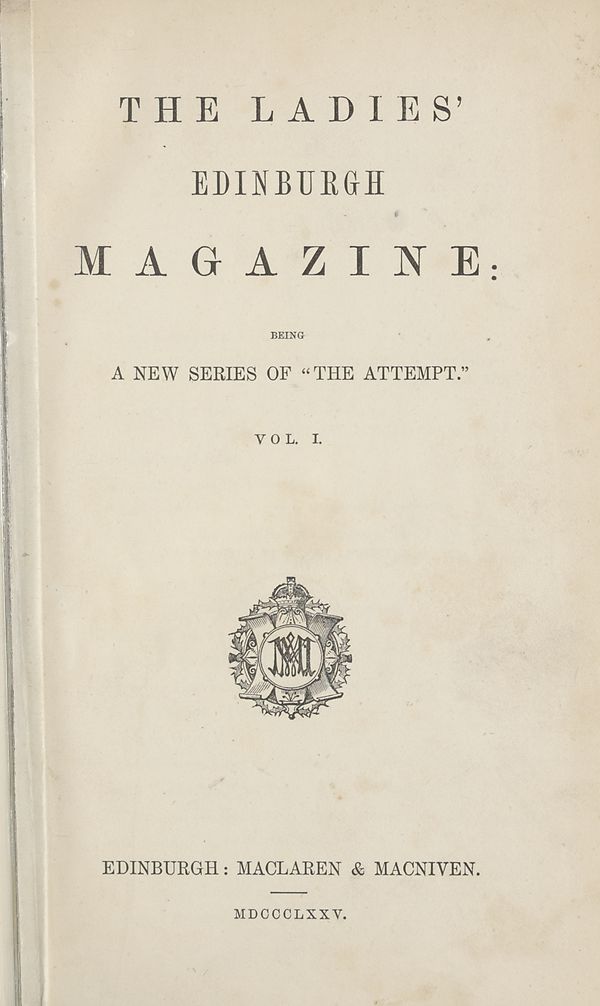 ---
Rights information

This collection is likely to be free of known copyright restrictions. For details visit our copyright page.
---
Download the data
Trial the data
Download a sample of the dataset for initial evaluation.
File contents: 1 plain text readme file; 316 ALTO XML files; 1 METS file; 316 image files.
File size: 2.22 MB compressed (50.7 MB uncompressed)
All the data
File contents: 1 plain text readme file; 1 CSV inventory file; 6,354 ALTO XML files; 16 METS files; 6,354 image files.
File size: 1 GB compressed (1.24 GB uncompressed)
Just the text
File contents: 1 plain text readme file; 1 CSV inventory file; 16 plain text files.
File size: 5.63 MB compressed (14.4 MB uncompressed)
---
Cite the data
DOI: https://doi.org/10.34812/rqn6-dm40
Dataset creator: National Library of Scotland
Dataset publisher: National Library of Scotland
Publication year: 2019
Suggested citation: National Library of Scotland. Edinburgh Ladies' Debating Society. National Library of Scotland, 2019. https://doi.org/10.34812/rqn6-dm40