Original OCR: no clean-up
13,088 ALTO XML files at page level
METS metadata files at item level
1,758,632 lines and 14,448,843 words
---
This collection comprises twenty volumes of the most popular descriptive gazetteers of Scotland in the 19th century. Principal places in Scotland, including towns, counties, castles, glens, antiquities and parishes, are listed alphabetically. Each entry includes detailed historical and geographical information about each place.
A gazetteer is usually described as a 'geographical index or dictionary'. They exist in various forms, and at their simplest, may be just an alphabetical list of place-names together with locational information. Descriptive gazetteers, in contrast, include lengthy descriptions about places, often with details of their physical and human geography, as well as economic, administrative and statistical data. As such, they form a written complement to detailed maps and atlases, and some of these gazetteers were specifically intended to complement cartographic works.
Many of these descriptive gazetteers in Scotland inherit elements from a longer tradition of topographic writing, such as the descriptive chorographic texts in the Blaeu Atlas of Scotland (1654), the work of Sir Robert Sibbald in the 17th century, and the Statistical Accounts of Scotland (1791-1845). During the 19th century, they broadened in scope to include a wide range of new information reflecting Scotland's rapid urbanisation, commercial expansion, developments in transportation (including the spread of railways), in public health, in schooling, and in recreation. They incorporated new information from state-sponsored surveys, including the Ordnance Survey mapping of Scotland, and its standardisation of place-names, as well as information from new censuses, and local government. For example, the significant changes to county and parish boundaries following the Local Government Act (Scotland) 1894 are documented in detail in the Ordnance Gazetteer of Scotland (1901), edited by Francis Groome.
Many of these gazetteers were compiled or published by leading Scottish publishers such as William and Robert Chambers, W. & A.K. Johnston, and Archibald Fullarton. Some of their editors, such as Samuel Lewis (c.1782 – 1865), and The Reverend John Marius Wilson (c.1805–1885), also compiled gazetteers of England, Wales and Ireland, as well as Scotland. Others, such as John Wood (c.1780–1847), were map-makers, and his gazetteer accompanied his main work publishing town plans. Their different perspectives are all useful, and collectively these gazetteers provide a comprehensive geographical encyclopaedia of Scotland in the 19th century.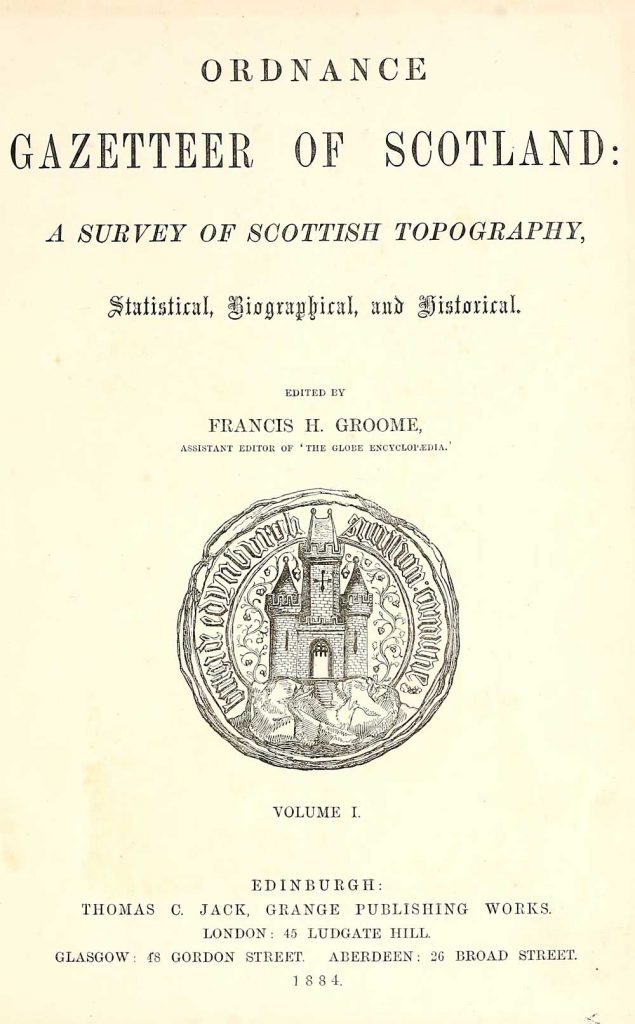 ---
Rights information

This collection is free of known copyright restrictions. For details visit the Library's copyright page.
---
Download the data
Trial the data
Download a sample of the dataset for initial evaluation.
File contents: 1 plain text readme file; 606 ALTO XML files; 1 METS file; 606 image files.
File size: 122 MB compressed (203.36 MB uncompressed)
All the data
File contents: 1 plain text readme file; 1 CSV inventory file; 13,088 ALTO XML files; 21 METS files; 13,088 image files.
File size: 2.5 GB compressed (4.7 GB uncompressed)
Caution: large dataset
Just the text
File contents: 1 plain text readme file; 1 CSV inventory file; 21 plain text files.
File size: 29.4 MB compressed (82.95 MB uncompressed)
---
Cite the data
DOI: https://doi.org/10.34812/ftt4-b196
Dataset creator: National Library of Scotland
Dataset publisher: National Library of Scotland
Publication year: 2019
Suggested citation: National Library of Scotland. Gazetteers of Scotland. National Library of Scotland, 2019. https://doi.org/10.34812/ftt4-b196