Handwritten Text Recognition (HTR)-generated
163 ALTO XML files at page level
METS metadata files at item level
2,115 lines and 12,167 words
---
This dataset comprises text and images of the diary, letters and poems of Marjory Fleming.
Majory Fleming (1803-1811) was a Scottish child author, born in Kirkcaldy, Fife, who became posthumously famous for her free-thinking and precocious diaries. Written mainly in Edinburgh and the holiday retreats of Ravelston and Braehead, they provide an authoritative record of Marjory's life, schoolwork, and passing. The attention given to these diaries in the later Victorian period saw her fêted by men of letters, and embedded in the public consciousness. The pages transcribed here form a portfolio of three volumes of Marjory's diary (1810-1811), which were deposited in the National Library of Scotland in 1930, and are a key source for those seeking a situational history of early 19th century Scotland.
This collection is the first Library dataset created using HTR (Handwritten Text Recognition) software, which is a form of artificial intelligence (AI). This involved hand-transcribing approximately 50 pages of Fleming's diary in the Transkribus platform to build a model of her handwriting, which could be applied to the whole collection. For further information see the readme and METS files in this dataset.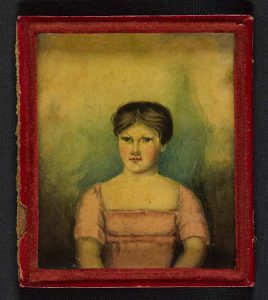 ---
Rights information

Items in this collection are free of known copyright restrictions. For details visit the Library's copyright page.
---
Download the data
Trial the data
Download a sample of the dataset for initial evaluation.
File contents: 1 plain text readme file; 52 ALTO XML files; 1 METS files; 60 image files.
File size: 4.8 MB compressed (5.17 MB uncompressed)
All the data
File contents: 1 plain text readme file; 1 CSV inventory file; 163 ALTO XML files; 5 METS files; 196 image files.
File size: 18.8 MB compressed (14.8 MB uncompressed)
Just the text
File contents: 1 plain text readme file; 1 CSV inventory file; 5 plain text files.
File size: 28 KB compressed (61 KB uncompressed)
---
Cite the data
DOI: https://doi.org/10.34812/weby-2v34
Dataset creator: National Library of Scotland
Dataset publisher: National Library of Scotland
Publication year: 2020
Suggested citation: National Library of Scotland. Diary, letters and poems of Marjory Fleming. National Library of Scotland, 2021. https://doi.org/10.34812/weby-2v34