Available as Dublin Core/XML
---
This dataset contains the bibliographic records from the Library's catalogue of published material: books, maps, music, journals, newspapers, pamphlets, flyers and more, and includes records for printed and digital publications. It excludes records from our catalogue where we believe the originator exerts rights over the re-use of the metadata.
This version contains over 5 million records which are split into 51 files of approximately 100,000 records each for ease of export.
The data is made available in DCMI Metadata Terms format.  The DC metadata terms are expressed in RDF vocabularies, which can be used in linked data applications, as well as in XML, JSON, and UML environments and relational databases.
We are considering additional formats for future releases and welcome feedback on this.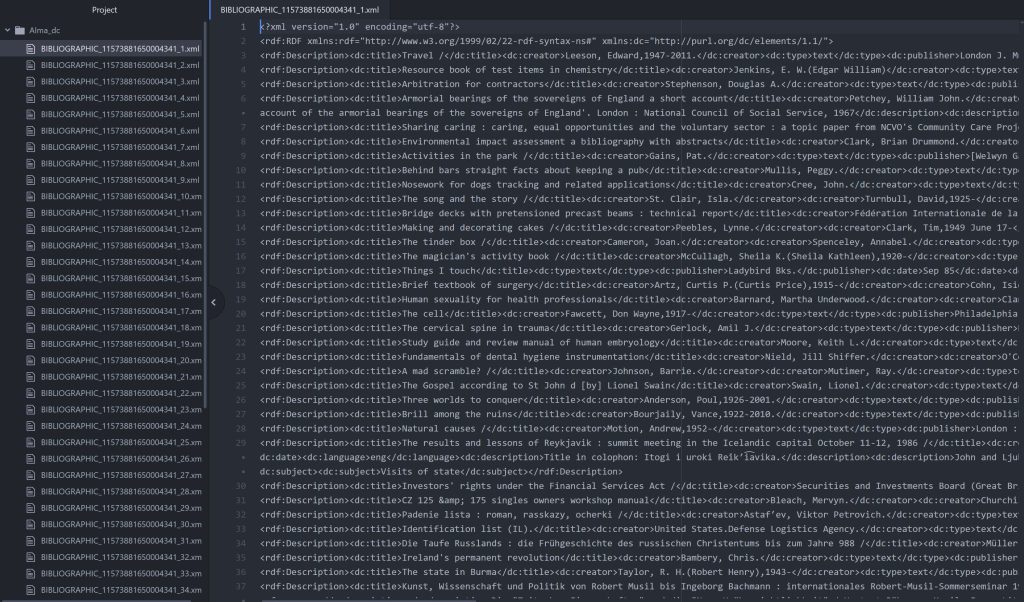 ---
Rights information

This data collection is made available as CC0 1.0 Universal (CC0 1.0) Public Domain.
---
Download the data
Trial the data
File contents: 1 readme file (plain text); 1 XML file in Dublin Core format; and 1 TSV file
File size: 21.1 MB compressed (90.5 MB uncompressed)
All the data
File contents: 1 readme file (plain text); 51 XML files in Dublin Core format; and 51 TSV files
File size: 1.1 GB compressed (4.5 GB uncompressed)
---
Cite the data
DOI: https://doi.org/10.34812/fbc2-b228
Dataset creator: National Library of Scotland
Dataset publisher: National Library of Scotland
Publication year: 2022
Suggested citation: National Library of Scotland. National Library of Scotland catalogue of published material. National Library of Scotland, 2022. https://doi.org/10.34812/fbc2-b228