---
This dataset contains all the records created as part of the Music Retroconversion project which ran 2019-2021 and converted the Library's card catalogues and other historical finding aids for published music into data. Most of this data was migrated to the Library's online catalogue where the records continue to be improved and edited. This dataset contains the original transcriptions of the information contained in the card catalogues and finding aids entered into structured fields.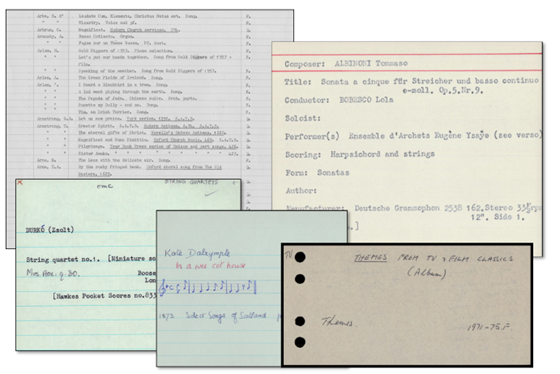 ---
Rights information

This data collection is licensed under a CC-BY 4.0 license.
---
Download the data
File contents: 1 readme .txt file (plain text); 1 project and data information .txt file (plain text); 8 XML files containing transcriptions of historical finding aids in structured fields; 8 .txt files (plain text) of those same transcriptions; one folder containing 21 sub-folders of 3,369 Plaine and Easie code .txt files (plain text).
File size: 50 MB compressed (614 MB uncompressed)