Martin Disley has joined the Library as our Artist in Residence until summer 2020, funded by the Creative Informatics AHRC-funded project.
---
AI and the collections
What lies at the intersection of art, cultural heritage collections and artificial intelligence? Martin Disley, the Library's Artist in Residence, has been finding out. Supported by the University of Edinburgh's Creative Informatics programme, which is AHRC-funded, Martin has spent his 9 month residency exploring GANs – Generative Adversarial Networks – and the Library's digitised material.
GANs are a type of machine learning, in which new data is created by 'training' it on an existing, curated dataset. Martin's work has involved training GAN systems on collections of digitised images, to create new works of art which retain traits of the initial collections.
This machine learning technique works particularly well on sets of images with consistent characteristics, such as the lines in architectural structures or the features of portraits – this enables the GAN to learn the key features of the images and to begin to copy or predict what could come next.
From bridges to maps
The aim for this project was to explore how, and whether, it is possible to convey the key features of digitised cultural heritage collections using artificial intelligence and, in turn, if these methods and outputs can be used to create new works of art.
Initially, Martin's residency explored the Library's collection of photographs of the Forth Bridge construction and the Tay Bridge Disaster, creating ghostly images of bridge structures.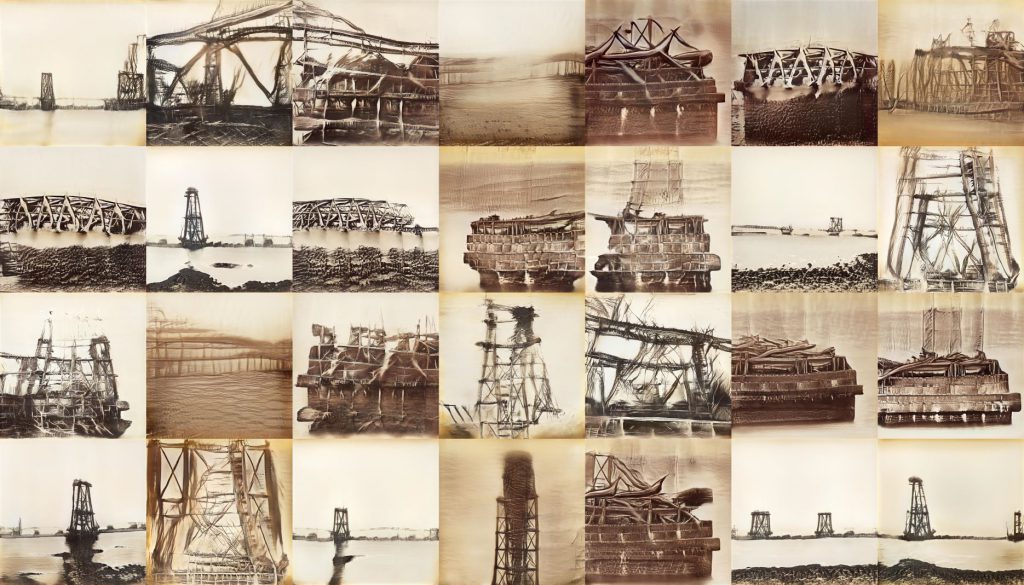 The second half of the residence explored the Library's map collections, including Ordnance Survey Maps, Admiralty Charts and Geological Surveys. With these, Martin's work has created new representations of imaginary coastal, geological and urban spaces.
As part of my residency with @natlibscot and @CreateInf I've been training GANs on the library's digitised map collections. Here are some latent space interpolations that demo the first model… pic.twitter.com/5QRS6M8vLW

— martin disley (@martin_disley) May 6, 2020
Towards the end of the residency, Martin became particularly interested in thinking about maps as a technology. Working closely with artificial intelligence and machine learning has enabled him to see at first hand how these technologies have the potential to be wielded as instruments of power. It struck him that the same was true of the map. Much like AI, cartography has the potential to advance any combination of insight and lies, to construct reality as much as represent it.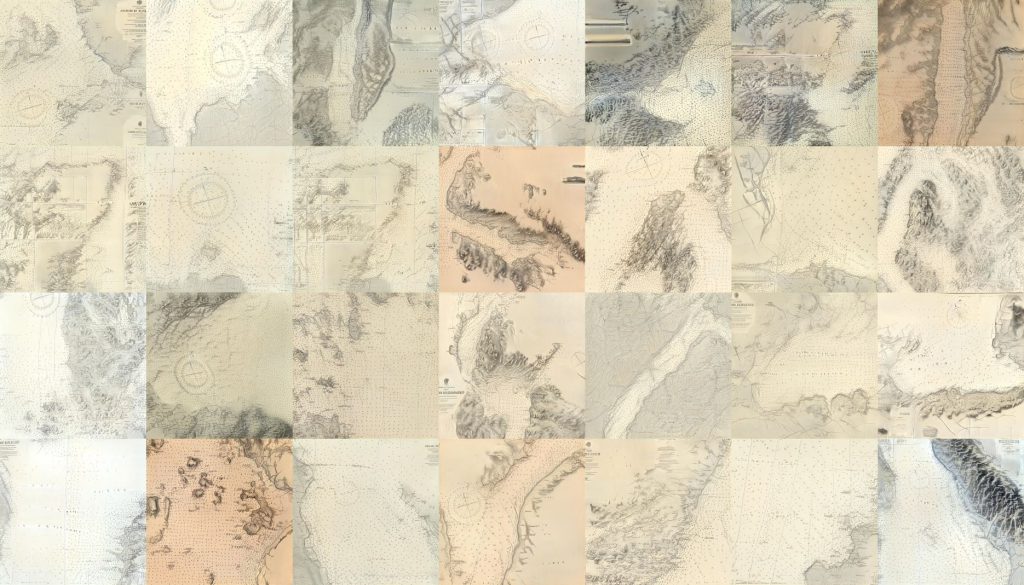 Martin hopes that, by pairing an ancient technology with a very contemporary one, he can extend critical engagement to those technologies that now almost seem like nature. 
Martin's work with the Library's maps has been shortlisted for the John Byrne Award – find out more below.
---
Find out more
Visit the Creative Informatics website: Creative Informatics
See more of Martin's work on his website: Martin Disley's website
Find out more about Martin's John Byrne Award shortlisted project: John Byrne Award