The GB1900 dataset is being used to locate 'missing' footpaths across England, Scotland, and Wales from a century ago.
---
Mapping historic footpaths
The GB1900 gazetteer is a set of 2.5 million named features, which were transcribed by volunteers from the Ordnance Survey's six-inch to the mile maps, dating between 1888 and 1913.
Chris Fleet (National Library of Scotland) has set up footpath names from the gazetteer in an interactive web-mapping viewer. The tool allows users to zoom to see footpath locations against a background Ordnance Survey six-inch to the mile map with the path and 'F.P.' abbreviation visible on the maps. Clicking on the blue dots show the transcriptions and other information (including parish and county) associated with the footpath.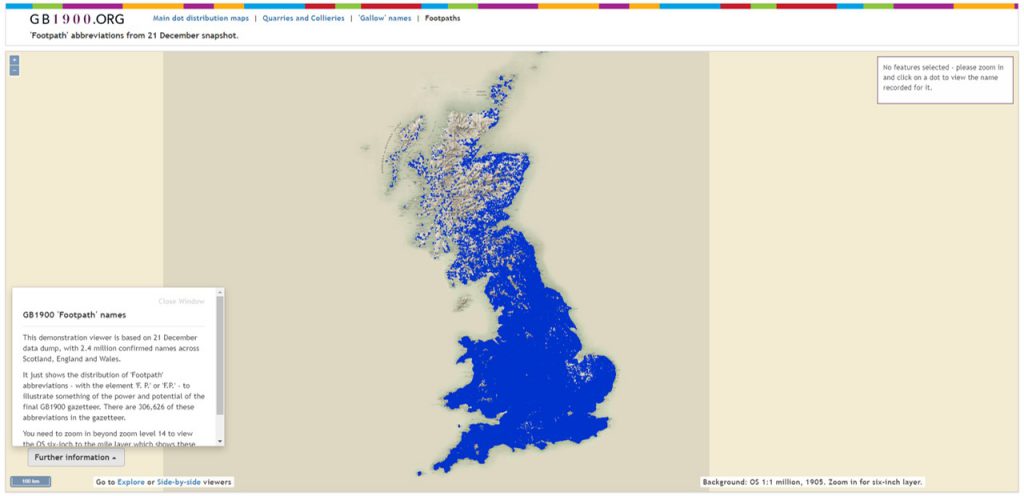 ---
Don't Lose Your Way: The Ramblers
Many of these historic footpaths have not been recorded on the present-day definitive maps of footpaths (the legal record of rights of way) in England and Wales, and do not appear on modern Ordnance Survey maps. It is estimated that around 10,000 miles of footpaths are 'missing' from maps in England and Wales, and if these are not recorded by 2025, it will not be possible to add them to the definitive maps.
In February 2020, The Ramblers launched their 'Don't Lose Your Way' transcription interface, inviting the public to trace these lost footpaths. This uses the National Library of Scotland's historic Ordnance Survey six-inch to the mile maps and Bartholomew maps, as well as the GB1900 footpath locations (all from a century ago), along with modern Ordnance Survey maps.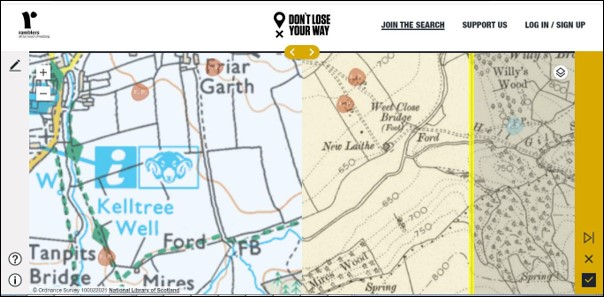 The interface allows you to select any one of 150,000 kilometre squares across England and Wales, to record the footpaths in that square. Once you have selected a square, you can use yellow siders to view modern or historical maps. By toggling between these maps, and looking for the circled GB1900 footpath locations, it is possible to find old footpaths or bridleways that are missing. A pencil icon then allows you to trace along the footpath, edit and correct it as appropriate and record any other missing rights of way, before submitting the square as done.
This case study illustrates how a large spatial dataset or gazetteer such as GB1900, created by volunteers by transcribing text from detailed, historic georeferenced maps, can firstly be used to find the point locations of footpath abbreviations, and then secondly to create a set of more detailed footpath routes as data. In other words, the extracted point locations of the Footpath abbreviations from the historic maps have been used to build a more detailed vector layer or dataset showing the actual routes of the footpaths.
---
Find out more
Download the footpaths data from this project: Footpaths shapefile and GeoJSON file (42 MB compressed)
View the GB1900 web mapping viewer: GB1900 footpaths
Visit the Don't Lose Your Way project: The Ramblers: Don't Lose Your Way website
More about the GB1900 data: A Vision of Britain Through Time website
---
Which dataset did this project use?
This project used the GB1900 gazetteer: GB1900 dataset on the Data Foundry website