The Library's annual fellowship in digital scholarship started in 2020.
---
The National Librarian's Research Fellow in Digital Scholarship 2020-21
Giles Bergel is a digital humanist, based in the Department of Engineering Science at the University of Oxford. He has a long-standing interest in the digitisation of cheap print, and is the editor of an edition of broadside and chapbook versions of the English ballad The Wandering Jew's Chronicle. His other interests include bibliography, typography and book design; and the histories of copyright and the British book trades.
Project overview
The National Library of Scotland has extensive holdings of printed chapbooks- small, cheap books sold by travelling pedlars, or chapmen – many of which have been digitised and can be viewed in the National Library of Scotland catalogue. Pioneer collectors of these now-rare items include Sir Walter Scott, James Boswell, and the owners of the large Lauriston Castle collection, whose donation in is one of the cornerstones of the present National Library of Scotland collection.
Containing songs, poems, stories, advice, prophecies and warnings, many are illustrated by means of reusable woodblocks or stereotype plates. The texts – which include works by Robert Burns and many anonymous writers – have typically received more attention than their illustrations, which are often considered poor-quality or unrelated to the text. Arguably, though, they were among the first and farthest-reaching forms of visual culture available to the people of Scotland and beyond, having been carefully crafted for a popular market.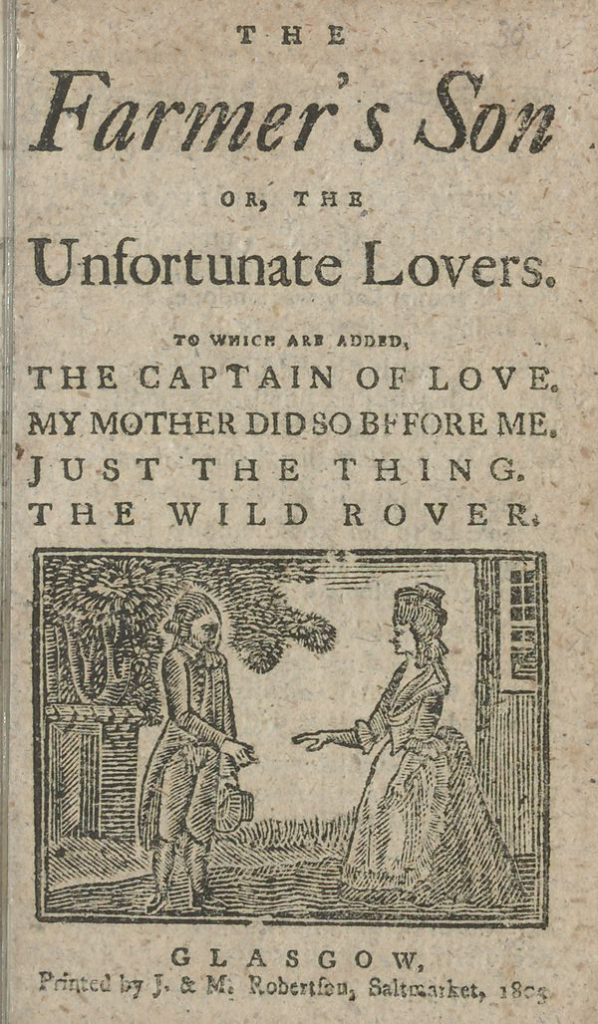 Chapmen travelled extensively around Britain and Ireland to sell their wares: they would also commission chapbooks from printers over a wide area. Consequently, some chapbooks intended for the Scottish market may have been printed in Newcastle or Belfast, while chapbooks printed in Scotland also circulated widely elsewhere. The places of origin of many chapbooks – particularly those printed within Scotland – are uncertain or unrecoverable from the sparse information printed on the chapbooks themselves.
The Chapbooks Printed in Scotland dataset has made images, text and catalogue records of over 3000 of the National Library of Scotland's holdings printed between c.1700-1899 freely available for large-scale computational analysis. This project intends to study the illustrations within this dataset, with the assistance of machine vision (also known as computer vision, or visual AI). One such method, in which unique features present across similar images are extracted and matched, was successfully used in the Bodleian Library's Broadside Ballads Online, and appears to work well on the dataset.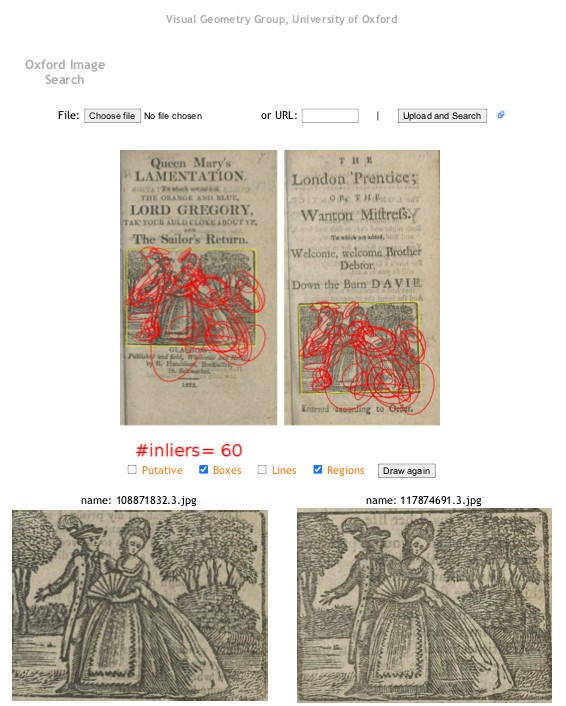 This project, lead by Dr Giles Bergel (University of Oxford) in collaboration with Dr Iain Beavan (Glasgow and Aberdeen) will adapt and apply these methods to the Chapbooks Printed in Scotland dataset in order to ask what can be learnt from their illustrations about chapbooks' origins; about relationships between chapbook printers, publishers and distributors; and about the type and range of imagery available to their readers. It hopes to uncover relationships between chapbook producers, their distributors, and their audiences – those who equally enjoyed and learnt from what was – alongside the newspaper, the ballad and arguably some religious works – the cheapest form of reading matter and visual culture that was generally available to all. It will also compare the National Library of Scotland collections with those held elsewhere.
The project runs until March 31st 2021.
---
The Fellowship
This Fellowship supports an exciting opportunity for a three-month period of research into of any aspect of the Library's data collections available on the Data Foundry (https://data.nls.uk/), using data science or other digital research methods or techniques. Fellows should undertake research for a significant piece of publishable work using one or more of these newly-released data collections.
As a digital fellowship, occupation of the National Librarian's Digital Scholarship Research Fellowship does not require residency within the Library: we welcome applications for remote 'residency'. The Fellow should, however, ensure that they remain in regular contact with the Library throughout the three month period and offer digital updates for staff and external audiences.
The Fellow should also use some of the award to visit the Library for at least one week during the three month period, to present findings, contribute to the Library's public and internal events programmes and deliver any other in-person engagement activities (for example, around the methodology and approach to the project). Any lectures must be delivered in the English, Scots or Gaelic languages. If travel restrictions continue, online alternatives should be offered.
This award is intended for scholars who hold a doctorate, or have attained relevant equivalent experience in employment in higher education or research, and who are active in a relevant field of research. Early career researchers are encouraged to apply, as are international applicants. International scholars are responsible for ensuring that they meet UK visa requirements and obtaining the correct visa where required. We welcome applications from candidates of all backgrounds: the National Library of Scotland recognises the value and importance of diversity and promotes equality in our working practices and culture.
---
Background
The National Librarian's Research Fellowship in Digital Scholarship is an annual fellowship, which started in 2020. The Library's Data Foundry was launched in September 2019, as the Library's data-delivery platform, and part of the Library's new Digital Scholarship Service. The Data Foundry provides Library collections in machine-readable form: digitised collections (text and images); metadata collections; map data; and organisational data. The Library updates and adds to these collections on a regular basis.
The Fellowship is generously supported by the National Librarian's Innovation Fund. The Fellowship comes with an award of £7,500 (which includes travel expenses), payable in three instalments.